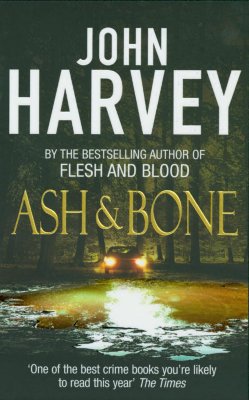 Stock Image may not be same as available
Author Name Harvey, John
Title Ash and Bone
Binding Paperback
Book Condition Very Good
Publisher Harcourt Brace 2006
ISBN Number 0099466236 / 9780099466239
Seller ID 19653
Frank Elder
More Description
Detective Sergeant Maddy Birch will never see thirty again. Nor forty. A lifetime on the force and all she has to show for it is a couple of hundred pounds in the bank and a mortgaged flat in Highgate Borders. When the take down of a violent criminal goes badly wrong leaving both the target and a young constable dead, something doesn't feel right to Maddy. And her uneasiness is only compounded when she starts to believe someone is following her home.
In Cornwall retired Detective Inspector Elder's solitary life is disturbed by a phone call from his estranged wife Joanne. Seventeen-year-old Katherine is running wild. Elder's fears for his daughter are underscored by remorse and guilt for it was his involvement that led directly to the abduction and rape that has so unbalanced Katherine's life.
Maddy and Elder have a connection. A brief, clumsy encounter sixteen years earlier. Just a quick grope and a cuddle, leading to nothing, but leaving a trace of lingering regret.
In Ash & Bone the unsettled, unhappy Elder is once again persuaded out of retirement. A cold, cold case has a devastating present day impact with sinister implications for the crime squad itself. Elder's investigation takes place against the backdrop of his increasing concern for his daughter and he must battle his own demons before he can uncover the truth.
"From the Hardcover edition."
Price = 8.25 CDN

Off Minor
Harvey, John



Good Bait
Harvey, John



Lonely Hearts
Harvey, John



The Bone Thief A Body Farm Novel
Bass, Jefferson



THE BONE GARDEN A Wesley Peterson Murder Mystery
Ellis, Kate



Cutting Edge
Harvey, John



Darkness and Light
Harvey, John



In a True Light
Harvey, John



Easy Meat
Harvey, John



A Bone of Contention
Gregory, Susanna