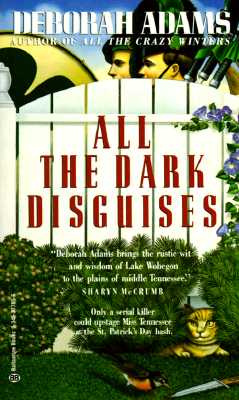 Stock Image may not be same as available
Author Name Adams, Deborah
Title All the Dark Disguises
Binding Paperback
Book Condition Very Good
Publisher Fawcett 1993
ISBN Number 0345377656 / 9780345377654
Seller ID 4927
0.1 x 6.7 x 4.1 Inches
More Description
The police have warned Jesus Creek folk that the town is on the Night Terror's itinerary, but thanks to the confabulations over the imminent St. Patrick's Day celebration, no one has time to stew over a madman who kills pretty blondes.
The only immediate consequence is that clever Kay -- Jesus Creek poet, waitress, and purveyor of cosmetics -- seizes the opportunity to promote her Lady Mystique Bashful Brunette hair color. But when she finds a pentagram and the words You Next carved into her front door, Kay feels the chill of the hunted.
When there's yet another murder, this one signed with the familiar pentagram, the Night Terror becomes Kay's personal horror, a constant nightmare from which she cannot seem to awaken....
Price = 3.25 CAD