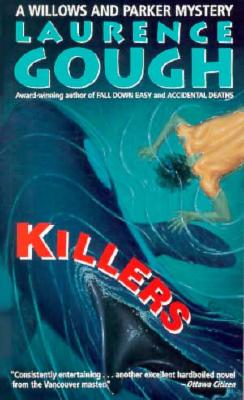 Stock Image may not be same as available
Author Name Gough, Laurence
Title Killers
Binding Paperback
Book Condition Very Good
Publisher McClelland and Stewart 1995
ISBN Number 0771034415 / 9780771034411
Seller ID 5814
0.9 x 6.8 x 4.1 Inches; 256 pages
More Description
It is mid-winter when the body of Dr. Gerard Roth is found floating in the killer-whale pool in Vancouver's main aquarium. Although he is known to enjoy tempting fate by swimming amongst the more dangerous mammals in the aquarium's collection, there are signs that he met his death at human hands. Detectives Jack Willows and Claire Parker are called in to investigate.
Meanwhile, feckless, unemployed actor Chris Spacy believes he actually witnessed Roth's body being dumped in the pool, but he's not exactly sure his blurred memory wasn't a drug-induced hallucination. With blackmail on his mind, he goes after the likely killer - an action that provokes further bloodshed, and complicates an already-murky case for the two detectives.
"Killers, "which marks the seventh appearance of detectives Willows and Parker, is a strong addition to Laurence Gough's much-acclaimed and award-winning series.
Price = 4.25 CDN