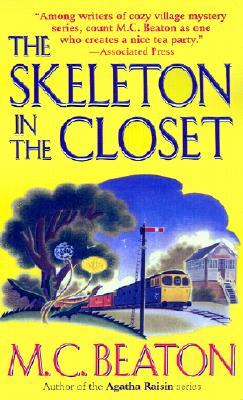 Stock Image may not be same as available
Author Name Beaton, M. C.
Title The Skeleton in the Closet
Binding Paperback
Book Condition Very Good
Publisher Minotaur Books 2002
ISBN Number 0312981457 / 9780312981457
Seller ID 15296
0.8 x 6.7 x 4.2 Inches; 240 pages
More Description
Ever since the death of his father, poor Fellworth Dolphin has slaved away as a waiter to support his miserly, cold-hearted mother. When his mother suddenly dies, Fellworth is shocked to discover that she has left him a sizable inheritance. confused, Fell teams up with Maggie, a plain girl with a similar background, to investigate the source of the riches. But what they find is a closet full of skeletons...
Is it really possible Fell's father was involved in a long-ago train robbery? Who's the mysterious woman in the portrait hidden in his mother's wardrobe? As Maggie and Fell poke around the village for answers, they find themselves on a surprise-filled path to danger and adventure, and--just possibly--love. But Fell's sudden good fortune could come to an abrupt end if he doesn't stay one step ahead of a cunning killer...

Price = 4.75 CDN