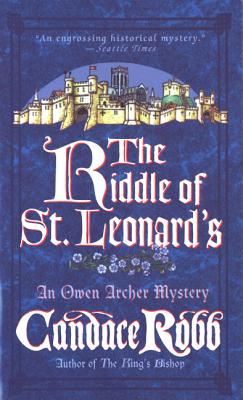 Stock Image may not be same as available
Author Name Robb, Candace
Title The Riddle of St. Leonard's
Binding Paperback
Book Condition Very Good
Publisher St. Martin's Paperbacks 1998
ISBN Number 0312966512 / 9780312966515
Seller ID 16735
Owen Archer Mysteries; 1 x 6.7 x 4.1 Inches; 304 pages
More Description
Medieval York is wrapped in a dangerous riddle that only Owen Archer can unfurl.
The fetid summer heat of 1369 has the citizens of York besieging Owen Archer's apothecary wife, Lucie, for physicks against noxious vapors. But more than pestilence is in the air. Owen is summoned to investigate the theft of rare treasures from St. Leonard's Hospital and the untimely deaths of aging patients.
What links a brutal robbery, a fatal fire, a lay sister some still call whore, and a homeless urchin who shoots an arrow as straight as Owen himself? Country lore and town gossip lead him deep into the past, toward a killer with a heart blacker than the plague itself...

Price = 4.50 CDN