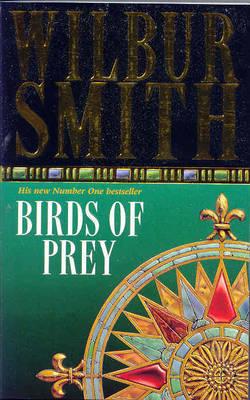 Stock Image may not be same as available
Author Name Smith, Wilbur
Title Birds of Prey
Binding Paperback
Book Condition Very Good
Publisher Pan Books, 1998
ISBN Number 033035289X / 9780330352895
Seller ID 2174
2.1 x 7 x 4.4 Inches; 784 pages
More Description
Deemed "one of the world's most popular and prolific adventure writers" by "The Washington Post," bestselling author Wilbur Smith is at the height of his storytelling powers in "Birds of Prey," a swashbuckling epic of adventure, intrigue and passion on the dangerous high seas of 1667.
As the choppy sea lanes of the African coast are rife with bloody battles over trade booty, Sir Francis Courteney and his 17-year-old son Hal embark on a seafaring quest for the treasure-laden galleons of the Dutch East India Company. But soon the horrific torture and execution of the elder Courteney catapults Hal into the role of captain. And the heavy burden of avenging his father's death-- along with the lusty pleasures he shares with three beautiful women-- will swiftly, irrevocably transform Hal from boy to man...
Richly detailed, breathlessly plotted, and rich with the color of the time and place, "Birds of Prey" is an unforgettable saga that will transport you to one of the most fascinating, action-packed eras in world history.

Price = 5.00 CDN