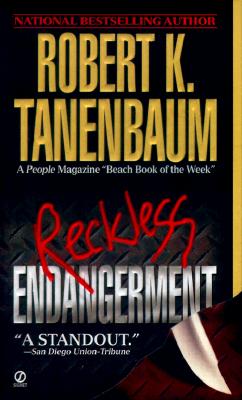 Stock Image may not be same as available
Author Name Tanenbaum, Robert K.
Title Reckless Endangerment
Binding Paperback
Book Condition Very Good
Publisher Signet 1999
ISBN Number 0451193288 / 9780451193285
Seller ID 2466
1.4 x 6.7 x 4.1 Inches; 448 pages
More Description
When an elderly Jewish shopkeeper is murdered and a racial epithet is scrawled beneath his body, police are hard-pressed to find the killer before the crime escalates into a media circus. While investigating, Butch discovers that a second murder -- this time a cop -- is related to the case. As racial tensions in the city build. Butch and his family find themselves caught in the crossfire of a merciless killer.
Price = 5.25 CAD