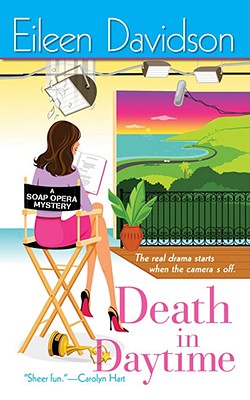 Stock Image may not be same as available
Author Name Davidson, Eileen
Title Death In Daytime A Soap Opera Mystery
Binding Paperback
Book Condition Very Good
Publisher Signet 2008
ISBN Number 0451225643 / 9780451225641
Seller ID 3877
1 x 6.7 x 4.1 Inches; 304 pages
More Description
First in a fun new soap opera MYSTERY series?written by an emmy?-nominated soap star...
She's bold. She's beautiful. And she's about to go to jail for murder...
Soap opera actress Alexis Peterson has starred in the nation's top soap opera for almost 20 years. But her career takes a nose-dive when Marcy Blanchard is hired as the head writer. Little did Alexis realize that Marcy's been holding a grudge all these years?and is ready to take her revenge.
So when Marcy turns up dead, bludgeoned to death with her Emmy?, no one is surprised that Alexis is the prime suspect. No one except Alexis, that is, who knows she has to take matters into her own hands if she wants to avoid being arrested for a crime she didn?t commit?and becoming the real killer's next victim...
Price = 4.50 AFA