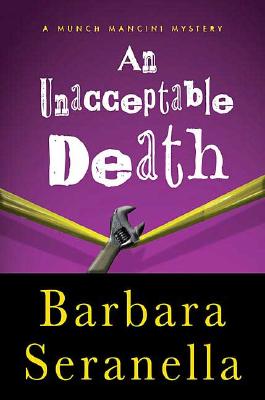 Stock Image may not be same as available
Author Name Seranella, Barbara
Title An Unacceptable Death
Binding Hardcover
Book Condition Very Good in Good+ dust jacket
Publisher Minotaur Books 2005
ISBN Number 0312347987 / 9780312347987
Seller ID 4311
Munch Mancini Novels; 1.1 x 8.3 x 5.8 Inches; 256 pages
More Description
One thing about Miranda Mancini that has never changed is the name everyone knows her by---Munch. But the child abused by her father and sent into prostitution, the young girl who stole money because she couldn't do without her drugs, the woman who spent awful months in prison---that person no longer exists. Instead, Munch Mancini is the surrogate "mother" of a friend's loving little girl, a woman who can top any male car mechanic's talents with a tool, and the unbelievably happy fiancee of police detective Enrique "Rico" Chacon. It's an ordinary life and it's exactly what she wants.
Everything changes when an early-morning call from homicide detective Mace St. John, the nearest thing Munch has to a father, brings unbelievably terrible news. Rico is dead, having been shot during a drug bust. Munch learns that Rico was shot by one of his fellow officers---and not by accident. This news energizes Munch in a way she wouldn't have believed possible. She knows in her head and her heart that Rico could not have been on the wrong side of the drug bust.
The police department insists that Rico was working with the drug dealers. But a pair of special officers with Narcotics have other ideas. They ask Munch to go undercover and mix with the suspected dealers. They are certain it will prove that Rico was innocent. Munch agrees. She could easily end up dead herself---but if she can clear Rico's name, she will have what she wants. "That's "Munch Mancini.
Price = 15.75 CDN