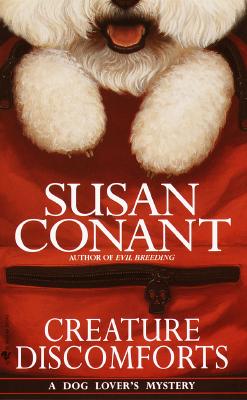 Stock Image may not be same as available
Author Name Conant, Susan
Title Creature Discomforts
Binding Paperback
Book Condition Very Good
Publisher Bantam 2001
ISBN Number 0553580590 / 9780553580594
Seller ID 4573
Dog Lover's Mysteries; 0.63 x 6.85 x 4.02 Inches; 224 pages
More Description
A dogged killer...
When "Dog's Life" columnist Holly Winter regains consciousness atop a cliff in Acadia National Park, she has no idea who she is. Not even the arrival of two beautiful and oddly friendly dogs, who happen to be her own Alaskan malamutes, Rowdy and Kimi, is enough to jar her memory.
Instinct tells her that her fall was no accident and she'd best keep her amnesia a secret. Yet when she follows the clues back to the guest house of Gabrielle Beamon, a charming woman surrounded by an eccentric band of preservationists, all she finds is more questions.
What was a dead man, who reportedly hated exercise and the outdoors, doing hiking in the first place? Why did Holly have a file filled with information on arsenic? And why does the charismatic founder of the Pine Tree Foundation seem so hauntingly familiar? As Holly gets closer to the truth, not even her faithful dogs may be able to save her from a human who is ruthless to the bone.

Price = 4.75 CDN