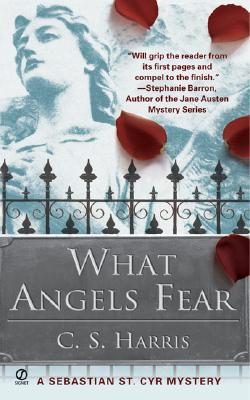 Stock Image may not be same as available
Author Name Harris, C. S.
Title What Angels Fear
Binding Paperback
Book Condition Very Good
Publisher Signet 2006
ISBN Number 0451219716 / 9780451219718
Seller ID 5087
Sebastian St. Cyr; 1.2 x 6.7 x 4.1 Inches; 432 pages
More Description
It's 1811, and the threat of revolution haunts the upper classes of King George III's England. Then a beautiful young woman is found savagely murdered on the altar steps of an ancient church near Westminster Abbey. A dueling pistol found at the scene and the damning testimony of a witness both point to one man-Sebastian St. Cyr, Viscount Devlin, a brilliant young nobleman shattered by his experience in the Napoleonic Wars.
Price = 5.25 CDN