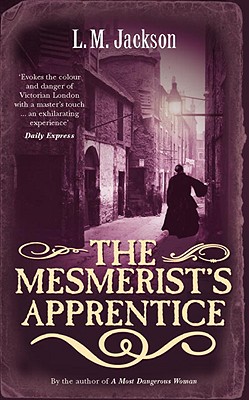 Stock Image may not be same as available
Author Name Jackson, L.M.
Title The Mesmerist's Apprentice
Binding Paperback
Book Condition New
Publisher Arrow 2009
ISBN Number 0099498421 / 9780099498421
Seller ID 5097
Sarah Tanner; 1.02 x 7.72 x 5.12 Inches; 356 pages
More Description
When the enigmatic Sarah Tanner re-opens her Dining and Coffee Rooms soon after a disastrous fire, the gossips of Leather Lane grudgingly admit she has "the luck of the devil." Yet when a local butcher is falsely accused of a heinous offence -- selling horsemeat -- it seems her luck has run out. Drawn into an evermore dangerous series of confrontations with a gang of youths who seem determined to put an innocent man out of business, Sarah Tanner's own livelihood looks set for ruin into the bargain.
But what links the persecution of a humble butcher with a certain Dr. Stead -- a leading practitioner of the strange art of mesmerism -- and a desperate plea from Sarah's former lover, the aristocrat Arthur De Salle? As Sarah Tanner investigates, she increasingly fears that the mesmerist, patronized by the highest society, is a charlatan and his latest patient, the unwitting victim of a grotesque fraud.
To preserve a family's honour, Sarah sets out upon a trail of suicide, murder, deception and deceit stretching from the alleys of Leather Lane to the drawing rooms of Mayfair.
Price = 17.50 CDN