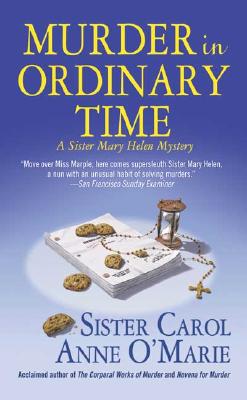 Stock Image may not be same as available
Author Name O'Marie, Sister Carol Anne
Title Murder in Ordinary Time A Sister Mary Helen Mystery
Binding Paperback
Book Condition Very Good
Publisher Minotaur Books 2005
ISBN Number 0312936184 / 9780312936181
Seller ID 5983
Sister Mary Helen Mysteries; 1.02 x 6.77 x 3.94 Inches; 256 pages
More Description
Just one bite of that irresistible Christmas cookie and Christina Kelly, Channel 5's leading investigative reporter, was on the air--dead. The odor of bitter almond told Sister May Helen the cause of the death: cyanide. Somewhere in the studio was the wily killer; it was a person everyone knew.
Had Christina's investigations led her to her dead end? Or was the fatal cookie meant for someone else: the notorious womanizer; the hard-drinking floor manager with something to hide; or perhaps Wicked Wendy, who certainly fit her nickname? Or was the intended victim the intrepid nun herself?
Heaven help her as Sister Mary Helen charges in where angels fear to tread to trap a killer before he strikes again.

Price = 5.50 CAD