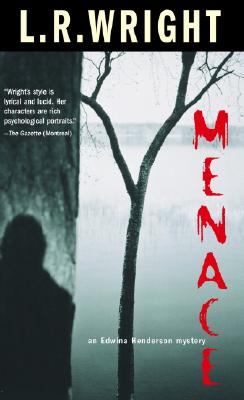 Stock Image may not be same as available
Author Name Wright, L. R.
Title Menace An Edwina Henderson Mystery
Binding Paperback
Book Condition Very Good
Publisher Doubleday Canada, Limited 2002
ISBN Number 0770427987 / 9780770427986
Seller ID 6286
0.5 x 6.8 x 4 Inches; 288 pages
More Description
The second and final Edwina Henderson mystery written by the late, much-loved "Bunny" Wright.
After years of working under someone else, Edwina "Eddie" Henderson has been promoted. She is now in charge of the RCMP detachment in Gibsons, B.C. -- a force of fifteen officers and two civilians. While she is busy sizing up her staff, a woman reports a theft, and then another reports a break-in. At first Eddie considers both complaints insignificant, even trivial. But as she and her new second-in-command begin to investigate, they are led into a dangerous confrontation with a stalker, obsessed with a woman who lives alone. His rage rapidly escalates, and he seems set to kill. Battling against the clock to find her man, Eddie can't shake the feeling that he may be closer than anyone suspects. An intricately crafted story with a diverse cast of vividly portrayed characters,
Menace
is a gripping novel from one of Canada's most celebrated and best-loved mystery writers.
Price = 5.75 AFA